Return of the Funker
February 25th 1995
ECW Arena
Philadelphia, PA
This show took place 3 weeks after the last show I reviewed(Double Tables). The major buildup for the show on Hardcore TV is a World Title match with Shane Douglas against former WWF Intercontinental champ, Marty Jannetty.
Also advertised was a special mystery opponent brought in by The Sandman to face Cactus Jack. Sandman and Cactus were in a pretty violent fued right here with 2 pretty brutal matches preceding this event.
The Pit Bulls vs Chad Austin & Joel Hartgood
The Pit Bulls are in the middle of a really good push right here. They broke up Bad Breed(Axl & Ian Rotten) in a "Loser's Split Up" tag match. They have been smashing jobbers left and right. One thing that Heyman used that really got The Pit Bulls as over as they got was music. Heyman used White Zombie's "Thunderkiss '65" as their entrance music, and also aired their highlight clips on Hardcore TV mixed in with the actual music video for the song. This was just a really popular song back then, and it fit the Pit Bulls really well.
Austin & Goodhart are jobbers. Interesting note, Joel Goodhart is actually kind of a poke at the old Tri States Wrestling Alliance owner Joel Hartgood. TSWA was the predecessor to the ECW.
The Pit Bulls are jacked up here. Big muscles. They definitely had a great look. Imagine two Rybacks.
That's what this looks like too. The Pit Bulls no sell everything, and are stiff as hell with these guys with similar moves as Ryback.
Goodhart goes to the outside, and Pitbull #1 grabs a crutch from one of the fans at ringside. This crutch belongs to a mentally disabled guy that sat ringside at pretty much every ECW show from 1995 to 96. Mick Foley would pick the guy up for each show, and the wrestlers would often use one of his walking crutches as a weapon in the matches.
Goodhart gets Superbombed off the top rope, and the crowd goes crazy for these two monsters as they get the win.
The entire ECW Arena breaks out in a chant of "ONE! MORE! TIME!"
Can you say Over?
4/10
Hard to grade a squash match. This one wasn't anything special, but you could see this team rising up in popularity. They were big, powerful, and mean, and the crowd really loved them here.
After the match we get Raven coming out with Stevie Richards still dressed up as "Stevie Flamingo."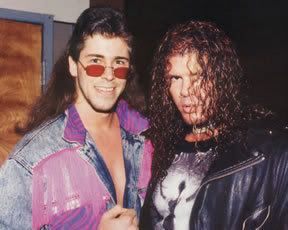 Raven talks to Joey Styles cutting one of his poetic promos about how Stevie Richards lost to Tommy Dreamer at the last show. He rambles on with a bunch of big sophisticated words that don't really add up to much as far as making sense.
Hooray big word usage!
Tommy Dreamer comes out and they are face to face.
Tommy tells Raven that they have had enough problems in the past, and orders him to shut up with his rambling or else to climb in the ring so they can go right now!
Pretty awesome segment here. Raven replies in his emo ultra feel sorry for me attitude saying that it isn't the time, but that Dreamer could go ahead and hit him if he want's to telling him to "Feel my pain". Raven says that he won't hit back.
The crowd starts calling Raven a pussy.
Dreamer tells Raven to keep his mouth shut, or else he would be getting his ass kicked. Dreamer leaves.
Raven says that Dreamer can't escape their past, and may god have mercy on his soul.
Quothe The Raven Nevermore.
Stevie Richards gets on the microphone, and tells Raven that he met a couple of guys at a bar in Philly that can help them kick Tommy Dreamer's ass. Stevie Richards brings out two old school guys from the early Eastern Championship Wrestling days, former champions Tony Stetson, and Johnny Hotbody.
Stetson and Hotbody come out telling Raven that he is a creation of today's society, and that society made him. They go on telling Raven that he is what Generation X is all about, and that they will help him kick Tommy Dreamer's ass.
Raven gets in the ring, and all of a sudden Tommy Dreamer comes running out with a stop sign. Dreamer cleans house with his sign, and we have an awesome stand off with Raven & Dreamer.
Raven and Dreamer fight each other for the first time, and get pulled apart by Stetson, Hotbody, Richards, and a few other wrestlers that come out of the back.
Joey Styles keeps hinting around that there is something more to the story that we aren't getting yet as the brawl comes to an end.
Jason Knight & Paul Lauria vs Mikey Whipreck & Hack Meyers
You know you are a good booker when you can get Hack Myers over. He is quite over here with everyone in the arena chanting "Shah!". Wow.
They do a wierd spot with simultaneous sunset flips, pulling both Lauria & Jason's pants down exposing their asses. They get up and kick both of them in the bare ass. Not sure how I feel about that spot.
The crowd screams "Shah!" at every move that Hack Myers lands.
This is a terrible match. Some really sloppy wrestling from Jason, and a bunch of weird double team moves with Lauria that the crowd boo's because they look terrible.
Here we go with our first frying pan of the evening. Jason cracks Whipreck over the head on the outside with a frying pan he was handed by one of the fans in the crowd.
Wow, this is getting quite a bit of time. Boring, sloppy match here.
I can't believe this match went on as long as it did. This was a really bad match that literally almost put me to sleep at around 15 minutes. None of these guys were tag team wrestlers, and only one of them was even remotely talented in the ring to begin with.
Some big masked guy interferes in the match to give Jason and Lauria the win. How goofy does it get?
2/10
Horrible match. One of the worst I've ever seen.
2 Cold Scorpio vs Hector Guerrero
Yep, Eddie Guerrero's brother, the Gobbledy Gooker himself, and current TNA Spanish broadcaster.
Hector is in pretty good shape, and looks a lot like Eddie did around this time.
They start it out with some solid mat wrestling, trading a couple of leg submissions. Solid technical match so far.
5 minutes in and this match is nothing special. Slow paced match with mucho rest holds, and nothing spectacular going on as far as selling, psychology. Just a mediocre match.
10 minutes in and Scorpio starts up with the high flying stuff. He lands a couple of moonsaults, and then the two men roll around the ring in a series of near pinfalls.
Scorpio gets the win after a 450 splash at the 12 minute mark.
6/10
Nothing special to write about, but not really a bad match at all. It was clean with some nice submission attempts, but overall the slow pace with all of the rest holds held it down. Really just kind of a bland match.
Barbed Wire Baseball Bat Match
Axl Rotten vs Ian Rotten
Oh wow, this is actually an "On A Pole" match, where's Russo?
Ian Rotten storms the ring early to get his hands on the bat before the ring crew guy can put it up on the pole. Ian gets the bat, and cracks the ring crew guy in the back with it!
This was the fued that put the Extreme in Extreme Championship Wrestling. I remember seeing pictures of these matches in magazines back in the day, and they were unbelievable. Unfortunately this series of matches looked a lot better in the magazines than they did in motion.
Axl slowly comes out as Ian screams for him in the ring with the bat.
Axl gets in the ring with a steel chair, and the crowd starts chanting Axl's name. Axl gets the bat from Ian, and proceeds to beat him around the ring. Axl opens up Ian by rubbing the barbed wire across the back of his head.
I think these guys have a razor blade taped to their finger tips. You can see both of them blading themselves plain as day with them. They take the fight into the crowd, and the fans hold up a chair for Axl to slam Ian into.
And we get our second frying pan of the evening.
Somebody should make a drinking game with these things.
Back in the ring, and Ian takes the bat to Axl's leg. The bat gets stuck in Axl's leg! These guys are bleeding pretty good right now.
This is some really sloppy stuff, but it's just so over the top with the violence and blood that I can't help but feel somewhat entertained. Still though, I don't feel real good about myself for being entertained by something like this. It is just a tad bit over the top, but when you think about the fact that it was exactly what these guys were trying to make this look like you can kind of appreciate it for what it is.
"You know in about a month or so, WCW is going to have a pay per view called Uncensored. Now Eric Bischoff I know you are watching, you are our biggest fan.

CENSOR THIS!"
-Joey Styles
The fight goes out into the crowd again, and Ian takes a belt off of the waist of one of the fans to whip Axl with. Back in the ring, and Axl rips Ian's shirt up with the barbed wire.
Oh wow, we finally get a......Wresting move?
Piledriver from Ian, but Axl kicks out at 2.
Both guys are a bloody mess. Axle gives Ian a type of pedigree move onto the barbed wire baseball bat for the pinfall after nearly 15 minutes.
Ian attacks Axle with the barbed wire off of the bat after the match as Joey says that we haven't seen the last of this fued.
5/10
As extreme as it looked, it was just a bunch of blood really. You can say that shit like this was bad for the safety of the wrestlers, but cuts aren't really that big of a deal. The worse thing to come from cuts in the long term is a scar(as long as everyone is clean from blood diseases, which can easily be detected by a 40$ blood test). There weren't really any unprotected chair shots or blunt head traumas in this match. With that said this wasn't really good. It was different for sure, and it wasn't as bad as their last match. At the end of the day if you look at this match for what it was in kayfabe, two brothers that hate each others guts and want to kill each other, it really wasn't that bad.
I don't know what to think about it really. I've been cut open pretty badly in the past, and it doesn't hurt as bad as one might think. I don't really buy into the whole "Inhumane" argument from the purists(because most of them are just soft pussies), but at the same time I'm just not real crazy about watching a match like this. It wasn't a wrestling match at all, but it did have some entertainment value. The same type of entertainment you would get from watching a choreographed fight in an action movie.
ECW World Championship
Shane Douglas(C) vs Marty Jannetty
I've heard around the internet that Shane Douglas was originally planned to play the Heartbreak Kid gimmick that Shawn Micheals played after turning on Marty Jannety. I've never seen any proof, but it seems like it could have been possible. Douglas was in the early stages of a push before he left the WWF in 1991 to take care of his terminally ill father. The counter argument was that Mr. Perfect gave the HBK gimmick to Shawn, but that could have just been the nickname itself(HBK). Not sure if Hennig ever had anything to do with the WWF creative department.
Marty is decked out in his Rockers gear. Something interesting to note here, Jannetty accidentally injured a jobber in the WWF in 1991. The jobber, Charles Austin suffered a broken neck, and sued the WWF. In the spring of 94 the court case was brought forward, and Jannetty disappeared from the WWF. He would stay out of the mainstream wrestling scene until this event, almost a year later.
Shane gets a microphone before the bell rings, and talks about how he and Jannetty were good friends in the WWF. Douglas says that he doesn't want to fight Janetty tonight, he just wants to teach him a wrestling lesson.
Shane offers a handshake, and tries go give Marty a kick to the mid section, but Jannetty blocks it.
Pretty good stuff to open up. Jannetty works at a fast pace with several near falls on Douglas. Shane plays the heel here slowing the pace down. Some good, smooth sequences here. These guys do have some nice chemistry in the ring together.
This is a surprisingly good match here. Nice pacing, excellent selling, and some good moves.
Marty keeps trying to land the superkick, but Douglas keeps finding a way to avoid it. Jannetty keeps the momentum of the match in his favor until Shane lands a low blow kick to Marty's groin that brings out the boo's from the crowd.
Jannetty is a very nimble, agile guy here. The match goes to the outside and Marty slams Douglas around the ring, and eventually into the crowd taking out the entire first row of fans!
Jannetty follows him into the crowd with a running dive. They fight through the crowd towards the concession stand.
Cant see shit.
Douglas drops Jannetty across the steel guardrail pretty hard, and attacks him with the crutch that I talked about in a previous match.
They get back in the ring, and Shane works Jannetty over. Marty with some really nice selling here.
Shane lands a clothesline that sends Marty spinning around in mid air.
They take it back outside, and Shane sends Jannetty into the steel guardrail, and the ringpost. Marty sells it like a champ, and makes it look really good.
OH! back body drop across two chairs! Pretty wicked bump by Jannetty.
This is a really good match. Douglas misses with a chair shot on the outside, and Jannetty lands his superkick.
Jannetty gets Douglas with the Rocker Dropper, but Shane kicks out. Marty is breathing hard and sweating profusely from working his ass off. He lands a nice superkick, and a DDT, but Douglas gets his leg up on the ropes.
Marty goes for a hurricanrana, but Douglas counters into a powerbomb for the win after nearly 18 minutes.
8/10
You can make a strong case that Jannetty carried Shane Douglas in this match, but a good match is a good match. Not a classic, but a damn fine match. Jannetty worked his ass off, and looked pretty good. Shane Douglas really didn't do much, but he looked better here than any of his previous matches that I've reviewed.
After the match the Public Enemy come out. Rocco Rock comes out in a wheelchair(put there by "The Crippler" Chris Benoit). They talk with Joey Styles about how they lost their titles at the last show. They say that they were robbed, and that it was the ultimate dis, because they were the ones that do all of the robbing around here. The Public Enemy characters just had a lot of depth to them in ECW that they didn't have in WCW. In WCW they were just the guys that came out with tables. They were quite bland in WCW, but in the ECW they were some interesting, often times humorous "East Coast Gangsters" characters.
PE calls out Paul Heyman and Todd Gordon for running the ECW, and say that they aren't running anything, PE runs ECW. They send a message to Benoit & Malenko that they aren't The Crippler and The Shooter, and that PE was the only real cripplers and shooters around here.
This brings out Benoit & Malenko.
Johnny Grunge tells Benoit that PE is coming for his ass, and the fight is on. Grunge gets taken out by Benoit with a chair, and Rocco is pushed over out of his wheelchair. Benoit puts Rocco back in the wheelchair, and shoves him into the steel guardrail. Total beatdown here.
Sabu & Taz(maniac) come out and the crowd pops. Here we go with our tag team title match!
ECW World Tag Team Championship
The Tasmaniac & Sabu(C) vs Chris Benoit & Dean Malenko
They start it off with some wild brawling in the ring. Everybody starts chanting SA-BU!, nobody cares about the Tasmaniac.
Beniot and Malenko control the match until Taz starts tossing them around the ring with a bunch of different suplexes. Taz tosses Benoit with a beautiful belly to back suplex.
Benoit & Malenko go after Taz's leg, and take him out of the match. 911 comes out and carries Taz out of the arena, even though he is still trying to fight. 911, Taz, and Sabu were kind of like a face stable managed by Paul Heyman here.
So it's just Sabu against Malenko and Benoit.
Sabu goes crazy, and flies all over the place.
Vintage, classic Sabu here with about 3 high flying, suicidal, kamikaze moves(including a springboard moonsault out of the ring to the floor) in the about 15 seconds of time. Awesome stuff.
Sabu pushes a table and a chair into the ring. He sets the chair up, and hits both Malenko & Benoit with a triple jump somersault out of the ring. I love it. E! C! DUB! chants echo through the arena.
Sabu sets the table up on top of the ropes in the corner, and sets a chair up on top of the table. He goes up to the top of the chair, but Benoit pushes him off. The chair folds out from under Sabu, and he falls on top of it down on the mats in a very painful looking bump.
Benoit then powerbombs Sabu off of the table set up on the top rope.
1, 2, 3, and we have new tag team champions.
Benoit gets a microphone and says that anytime the Public Enemy want a shot at the belts they know where the gold is.
Public Enemy come out and a brawl is on. 911 brings Taz back out, and he limps around. PE, Benoit, and Malenko take the brawl to the outside. 911 picks Taz up and throws him out of the ring on top of them. Sabu follows up with another dive off of the top rope onto Rocco Rock, and the 3 way brawl continues outside the ring.
911 chokeslams the referee down into the canvas for no reason, and the crowd loves it. Hilarious.
8.2/10
The way Taz was taken out and brought back was kind of goofy, but it really gave Sabu a chance to shine, and boy did he. Sabu was very awesome at this time compared to what else was going on in pro wrestling. This was before the luchadores really took of in WCW, so Sabu was doing things that you just did not see. It was a lot of action, and that was always why Sabu was one of my favorites. This match was really one of his best.
This match gets extra fractions of a point from me because it was just fun. The random chokeslam at the end, the pandemonium, it was starting to really look like ECW finally, and I loved it. I also loved the psychology involved with bringing in the table the way they used it merely as a platform on the top rope. Also, this segment really set up the main event for the next show quite well. You can't doubt that Heyman had really stepped up his game as a booker with this 3 way tag team feud between Benoit/Malenko, Public Enemy, and Sabu/Taz. You have to remember that the 3 way dance really came from ECW, and there weren't many 3 way feuds going on in pro wrestling up to this point(except maybe The Von Erich's vs Freebirds vs Devastation Inc. in WCCW in the 80's).
Cactus Jack vs DC Drake
Alright, I don't know who the hell DC Drake is, but based on the title of the this event, I'm willing to bet it ends up with Terry Funk facing Cactus instead of Drake. The Sandman and Cactus had been fueding going back to late 1994, and were coming off of a brutal Texas Death Match on the last show I reviewed. Sandman was supposedly KO'd for real, and had to go to the emergency room after that match. So I'm assuming that he was unable to compete tonight, and brought in someone to take his place.
So far up to this point Sandman wasn't really drinking beers out in the open. He was just smoking cigarettes, but the personality of the character was there.
Joey Styles does a very interesting interview ringside with The Sandman and his manager here, the late Nancy "Woman" Benoit.
Nancy says that first of all, Cactus has been running his mouth about her husband, and that everybody knew who he was. Her husband at this time was Kevin Sullivan. Sullivan was the booker for WCW, where Cactus had recently been fired. She goes on cutting a really decent promo talking about how Cactus tried to take out her meal ticket, The Sandman in their last match.
Nancy was really good on the microphone.
Cactus Jack comes out and people in the crowd are trying to hand him weapons, including an empty vodka bottle. Cactus gets in the ring, and some dude gets out of a box in the nearby ringside area. Joey puts Drake over as one of the most sadistic, violent wrestlers in Pennsylvania wresting history. He gets no reaction from the crowd. He looks like the Repo Man with his costume, black paint around the eyes and everything.
Boy this is sloppy, slow, and terrible. Just a brawl. Cactus works the guy over. Here we go with our third frying pan of the evening
. Drake takes the timekeepers hammer to Cactus. Drake smacks the hat off of Straw Hat Guy, he's pissed.
Cactus gets his DDT for the win, and The Sandman attacks him with the cane. Woman rakes Jack's eyes, and Jack goes after her. Drake and Sandman attack Cactus, but he takes them out. The brawl goes near the box at ringside. Cactus shoves Sandman into the box. The box is covered with a black sheet.
Cactus pulls Sandman back out of the box covered up in the sheet. Cactus rolls Sandman into the ring, stands him up, and pulls the sheet off to reveal Terry Funk!
Huge pop from the crowd!
Cactus and Funk circle each other in the ring smacking each other in the face as the crowd goes ape shit. Cactus and Funk begin fighting in the ring. Sandman comes into the ring with the cane, and takes it to Cactus. Funk and Sandman double team Cactus. Cactus gets the cane, and clears Sandman out of the ring. Cactus takes the cane to Terry Funk with some hard shots to his face. Funk takes them, and gets the cane. Funk and the Sandman both destroy Cactus with canes. Wrestlers come out of the back to save Cactus, but each of them gets a cane shot for their efforts. The beating continues for several minutes as Woman stalks the ring.
Tommy Dreamer comes out and gets a cane. Dreamer clears Sandman out of the ring, and we have a staredown with Dreamer and Funk. Styles says that Dreamer is Funk's protege. Funk slaps Dreamer across the face as he stands in the center of the ring looking at him with a cane in his hand. Dreamer drops the cane as Funk continues to slap him across his face. Sandman takes Dreamer down with a cane shot to the back of the head.
Dreamer and Cactus are destroyed, and Terry Funk turns heel on the crowd by talking shit about them. Funk tells Cactus that he hasn't forgotten about their past. Cactus cries out in a microphone for help as Funk & Sandman beat on him.
Out comes Cactus' former training partner Shane Douglas.
Shane just watches as Terry & Sandman continue beating on Cactus with canes and chairs.
Woman tells Shane Douglas that she used to manage the Four Horseman, and promises him that she can help him take them down if she joins Funk and Sandman.
The Sandman holds Cactus Jack up as Terry Funk tells Shane Douglas to hit him in the face with his ECW World Title. Douglas starts to hit Cactus, but hits The Sandman! Shane takes out Funk & The Sandman with his belt to bring the show to an end.
7/10
Kind of a wierd segment with mystery guys coming out of boxes. Surely they could have come up with a better idea.
With that said the Cactus vs DC Drake match itself was terrible. I'd give it a 3-4 on it's own. The segment that followed with Funk aligning himself with The Sandman turning heel, and Shane Douglas turning face by saving Cactus Jack was a pretty good double switch. This was all giving Douglas and The Sandman a pretty good rub with the already established hardcore legends Cactus and Terry Funk. Not sure why it was necessary to bring Tommy Dreamer in, but perhaps it will lead to something in the future. We'll have to find out on the next episode. Same Shinobi time, same Shinobi channel.
Overall: 6.8/10
This show and the last show I reviewed, the first two shows of 1995 for ECW, were really the turning point for the promotion. The turning point for all of the major characters. There were still some issues with Heyman's booking, but you could see some real talent in him with this 3 way tag team fued, and the way he was pushing Dreamer, Sandman, The Pit Bulls, and Douglas, all homegrown talent. The thing with Heyman at this time was that he had really figured out his audience. It was the same group of people coming to all of the shows, and by early 95 Heyman knew exactly what they were going to cheer or boo. That was one of the benefits of running shows in a bingo hall like the ECW Arena, the same crowd came to every show, and you could really give the characters a good chance to develope some depth.
With that said the Jason/Lauria vs Whipreck/Hack Myers tag match really stunk up the joint and brought the overall score of this show down. Terrible match. Other than that we got to see some vintage Sabu at his best, a cool Raven vs Dreamer segment, and a solid Douglas vs Jannetty match. Overall this was really an in between show to push these storylines, and build up to the next show I will be reviewing, Three Way Dance.