Barbed Wire, Hoodies, and Chokeslams
June 17th 1995
ECW Arena
Philadelphia, PA
A fat spliff, a box of pizza, and an old ECW VHS tape. What else would you rather be doing on a Friday night?
This show took place about a month after Enter Sandman, and 8 days prior to WWF King of the Ring 95. Behind the scenes the promotion was making an ownership transition from Todd Gordon to Paul Heyman. The ECW was owned 50/50 by Heyman & Gordon up to this point, and rumors were that the two were starting to have some friction between each other over the direction of the company. Gordon liked things the way they were, but Heyman wanted to expand. Heyman would buy out Gordon's half of the company in June of 95 right around the time of this show. Gordon would remain employed by the ECW as a performer(ECW "Commissioner"). Supposedly the ECW's debt at this point was only around $15,000. Interesting note. The ECW was already running in the red, and would never really get it's head above water financially. I'm going to go fan fic on everyone's asses and ask a "What If?". What if some rich mogul like
these guys
, or
this guy
stepped in and bought the ECW around this time in 95? They already had guys like Guerrero, Malenko, Raven, Foley etc. A man named Steve Austin would land in their lap a few months later. What if some rich company came in and bought them, paid down their $15,000 debt, kept Heyman in charge of booking/creative, and signed their talent to good paying contracts? With proper funding and financial management I think ECW would have become more popular than WWF & WCW by the late 90's. There was a small window here where I think the right people could have done it.
Moving on from my crazy speculations and psychobabble, lets refresh our memories of what the hell was going on in ECW at this time. The Sandman was the ECW world champion, but he wasn't really. The real world champion was his manager Nancy "Woman" Sullivan(Benoit). She was a highly intelligent, conniving, gold digging character who only used The Sandman to get what she wanted, and what she wanted was the ECW World Championship. The belt was hers. She did the work that won the title. Woman left The Sandman for Shane Douglas, only to doublecross him at the next show to help The Sandman win the strap. After taking a closer look at this character, she played a really interesting role. Woman could care less about what happened to The Sandman. Sandman wasn't good enough to win it without her, so if you really think about this storyline The Sandman wasn't really the champion at all. Sandman had the body that could take more punishment than almost anybody, but Woman had the brains to make things happen. ECW gets criticized for it's violence towards women, but there were also times when they had female characters that were very empowered, tough, and in Woman's case, highly intelligent.
Sandman was feuding with Cactus Jack starting early in 95. They had a brutal Texas Death Match that really won The Sandman a lot of fans, and brought him a newfound respect from the ECW audience. The more I see the more I realize that this Sandman/Woman vs Cactus Jack feud in ECW in 1995 is quite underrated. They took it to the next level here in the second of only four total barbed wire matches in ECW history.
After Shane Douglas was cheated out of his belt by Sandman & Woman, he put on a WWF Raw shirt, and stormed out of the front door of the ECW Arena. Douglas' character had grown tired of ECW's emphasis on weapons and brawling over real wrestling. At the next show, Douglas brought in someone that would enforce standard rules and regulations in ECW. The referee that calls it right down the middle, Bill Alphonso(from the Pennsylvania State Athletic Commission).
Elsewhere in the land of extreme, Raven & Tommy Dreamer's feud grew to involve Luna Vachon at the last show. There was a pretty big fued going on here between Raven's "Flock"(Stevie Richards, Beulah, and The Pitbulls) against Dreamer and Public Enemy. Luna did a run in to help Dreamer fight off Stevie Richards, Raven, and Beulah at the end of the last show.
Taz had been repackaged from Tasmaniac into the third Steiner Brother. Public Enemy were the top drawing, most over act in the promotion, which is crazy when you think about it. The reactions they were getting from these fans is hard to believe if you are only familiar with their work in WCW. They were strait up home grown Heyman talent that really worked well with the Philly crowd for some reason. I think you would really have to have been alive in the mid 90's to understand the appeal of Public Enemy. The major thing going on in pop culture around this time was the West Coast vs East Coast hip hop feud. The feud centered around Tupac Shakur & Notorious B.I.G.
ECW would do their own spin on the East Coast vs West Coast rivalry that was going on when The Gangstas came over from Smoky Mountain Wrestling. The Gangstas(New Jack & Mustapha) would draw heat in Smoky Mountain by really pushing some people's buttons with their over the top stereotypical racial characters. The Gangstas would often times come out eating fried chicken and watermelon. New Jack would rant on with promos about slavery, and southern bigotry. They even pushed it further by enforcing Affirmative Action to win matches with 2 counts instead of 3. It got to the point where the NAACP would even show up to Smoky Mountain shows to protest the Gangstas for representing the African American community in the wrong way.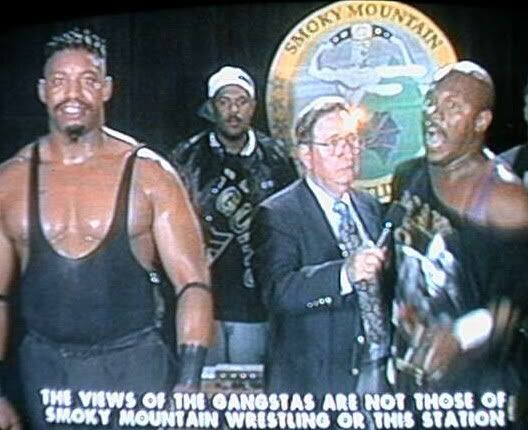 New Jack and Mustapha would leave Smoky Mountain for ECW with proper notice, but rumors are that Jim Cornette was so angry about their departure that he blackballed them from anywhere and everywhere that he could.
The Gangstas represented the West coast against the East coast Public Enemy. The feud started on Hardcore TV leading up to this show during PE's trademark promos that they would cut in the back alleys of Philadelphia. At the end of one of their promos they stumbled upon some of the Gangsta's spray painted graffiti on one of the walls in their neighborhood. This show would see The Gangsta's ECW debut.
Broad Street Billy (Tony Stetson) vs The New Jersey Devil
Alright, before we even get started with this match lets stop and think for a second when and where this event takes place. This is June 17th 1995 in southern Philadelphia. Just four days prior to this show the Philadelphia Flyers were eliminated from the 1995 Stanley Cup Playoffs in the 6th game of the NHL Eastern Conference Finals by the New Jersey Devils(Who went on to win the cup).
The Devil is some skinny jobber. Stetson is pretty much a jobber as well, but he had been wrestling in ECW for a few years by this point. Both men are wearing hockey jerseys. Stetson is wearing hockey gloves. He drops the gloves, and beats the crap out of the Jersey Devil for the win after about 15 seconds.
Stetson celebrates until The Devil hits him from behind. The Jersey Devil beats on Stetson until all of a sudden 911 and Paul Heyman come out together.
Crowd goes crazy. 911 gives The Jersey Devil the nastiest chokeslam I have ever seen in my life! Good god almighty. Stiff.
Crowd is blowing the roof off of the Arena. Heyman leans over Devil's dead body and gives him the last rights. 911 gives him another chokeslam. The crowd starts chanting "ONE! MORE! TIME!". Oh man! Another really hard chokeslam. This guy's body bounces off of the mat. Ouch.
The crowd still chants "ONE! MORE! TIME!"
Heyman gets a microphone, and tells The Devil "Welcome to Phila! Fuckin' Delphia!". Heyman gets the crowd white hot. Heyman asks them if they want to see another chokeslam, and they start chanting "DO! IT! NOW!". 911 almost slams the dude through the ring. Jeezus.
This wasn't really a match, just a little skit, and it really got the crowd shook up. Everybody is just fired up. Vicious, brutal fucking chokeslams though. Pretty funny little segment.
Mikey Whipwreck vs Val Puccio
Val is a guy that looks really, really unhealthy. Real bad overweight, like heart attack overweight.
Whipreck just didn't really have anything going on in ECW at this time. He won the Wrestling Observer Newsletter award for Rookie of the Year in 94, but he they just didn't really have anything for him so far from what we've seen in 95.
Val tosses Mikey to the ground. The crowd is still really fired up from the previous segment. Val slams Mikey down again. Mikey goes to the outside, and sells his arm like it's broken. He keeps it tucked close to his body as he gets back in. Mikey hits Val with 5 low blows to the groin, and drops him with a DDT for the pinfall after about 2 minutes.
1.5/10
What the fuck?!
I don't get the purpose of this one. I'll give it some points for Mikey's selling of the arm, which was really good, but this match was really stupid.
Vampire Warrior vs Hack Myers
Alright, Hack Myers is the Hacksaw Jim Duggan of ECW here. Something I did not know was that Vampire Warrior is Gangrel.
Hmm. Not sure what to think about that. I didn't know exactly who Vampire Warrior was when I read the matches for this event, but I was kind of hoping for someone better than Gangrel. This should be interesting.
Myers comes out to the original version of "Am I Evil". I guess Myers' gimmick was that he was like a biker dude. He had some leathers and a chain. Meh.
Gangrel looks really weird here. He's got some freaky looking eyebrows. Fangs too. Billed from "The Other Side of Darkness". Gangrel keeps screaming out loud with this really annoying, high pitched scream. The crowd is just not digging it. Gangrel hits Myers with some punches, and the crowd screams out "SHIT!" with each strike.
Myers lands a series of punches, and the crowd screams "SHAH!".
Gangrel hits Myers with a DDT for the win after about 4 minutes. Gangrel goes to the back screaming out loud with his annoying scream.
2/10
Another big WTF!? Gangrel won without really landing any offense. All he did was land a few chops, a kick to the stomach, and a DDT. The funny crowd reactions saved this from being a 1. Terrible match.
Tommy Dreamer vs Vampire Warrior
This tape cuts away immediately to a Joey Styles interview with Tommy Dreamer & Luna Vachon together. Stevie Richards cuts Tommy off on the interview, and says that he has Gangrel for an interview. Gangrel comes out. Dreamer tells Gangrel that he's hanging out with the wrong crowd. Dreamer welcomes Gangrel to ECW, and offers him a handshake. Gangrel tells him that he doesn't want to shake his hand. Gangrel tells Dreamer that he is here to get Dreamer's hands off of his woman. Gangrel punches Dreamer in the face, and it looked like a real punch. One of the best fake punches I've ever seen in my life.
Dreamer and Gangrel brawl around the ring, and back towards the backstage door. Luna cracks Gangrel in the back with a chair. Gangrel chases her away, and proceeds to continue brawling with Dreamer. Dreamer is busted open bleeding. They make their way back ringside where Dreamer gets a frying pan from the crowd
. Dreamer cracks Gangrel in the head with the skillet. Gangrel is busted open bleeding profusely. They brawl around the arena in a sloppy looking brawl with mostly chairs involved. They make their way back ringside where Luna Vachon wipes the blood off of Gangrel, and wipes it on her face with her hands. They bring a chair into the ring. Gangrel opens the chair up. Dreamer runs, leaps off of the chair, and hits Gangrel with a sloppy ass flying DDT. 1, 2, 3, it's over.
3/10
Never was a big fan of Gangrel, or The Brood. He really kind of sucked in both of these matches. The crowd hated him. Turns out that Gangrel and Luna Vachon were actually married at this time. Still though, this was all just some weird stuff.
Right after the match Todd Gordon comes out to talk to Bill Alphonso. Alphonso just nails this role with his performance. Fonzie gets some really, really good heat from the crowd when he threatens and insults Gordon. ECW face wrestlers come out to hold Gordon back, and the crowd starts changing "LET! HIM! GO!" very loudly. This angle really had this crowd going.
911 vs Jim Steele
Steele was a graduate of WCW's Power Plant training facility. He wrestled briefly as "Jungle" Jim Steele as a caveman gimmick. This crowd is just ruthless towards him, jeez.
911 comes out, and the crowd starts chanting "WE! WANT! FIVE!" very, very loudly.
911 avoids a splash, and chokeslams him down for the pinfall. The crowd starts chanting "FOUR! MORE! TIMES!". 911 chokeslams him again, and the crowd starts singing "Na-Na-Na-Na, Na-Na-Na-Na, Hey-Hey-Hey, Good Bye!". The crowd chants "THREE! MORE! TIMES". Heyman gets a microphone, and says that the next chokeslam is dedicated to all of his associates in the CNN towers in Atlanta Georgia. 911 chokeslams him again.
"TWO! MORE! TIMES!"
Heyman says that they can't chokeslam him again.........Unless!
He gets to dedicate the next chokeslam to WCW's Renegade(WCW's Ultimate Warrior rip off). 911 gives him a fourth chokeslam. The crowd chants for one more, and Heyman says that he can't do it. Heyman says that he can forgive Shane Douglas for wearing a monday night raw t-shirt, but he just can't give Jim Steele one more chokeslam. Heyman and 911 act like they are leaving the building. Heyman climbs through the ropes, but before he climbs down off of the apron he says "Unless!".
Heyman dedicates the fifth and final chokeslam to "BILL MOTHERFUCKIN' ALPHONSO!". 911 gives Steel a 5th chokeslam. The crowd starts chanting "E! C! DUB!" as 911 and Heyman make their exit.
Much like the opening segment, this isn't really a match. Just kind of a skit. Heyman really knew how to work this crowd up into a frenzy, and that's what he did here. I don't really know how to put a grade on it. The crowd really makes the segment. They were just eating out of Heyman's hand here.
Beulah vs Luna Vachon
Beulah comes out with Raven and Stevie Richards. Luna comes out solo. Beulah takes off her shirt and unwraps the flannel from around her waist to reveal a tight little one piece swimsuit. OH MY GAWD! HOTNESS! This woman was amazing. The reaction of the guys in the crowd when they disrobes is fucking hilarious.
Beulah taunts Luna from across the ring. The bell rings, and Stevie immediately sneaks up behind Luna. Stevie cracks Luna in the back with a steel chair.
Beulah pins Luna immediately. Raven drops Luna with a DDT, and gives her a loaded boot to the side of the head. Tommy Dreamer comes out with his head wrapped up from his previous match. Raven hits him in the head with the steel chair. Raven drops Dreamer with a DDT, and proceeds to "break" Tommy Dreamer's fingers one by one. Raven goes to the outside, and handcuff's Luna to the ropes in a crucified position. Raven gets a chair. Raven tries to hit Luna in the head, but Dreamer puts himself in front of it to shield her.
This is another segment that wasn't really a match. Beulah is one of the best looking women that ever lived. Raven taking the upper hand in the feud like this was pretty interesting. He beat Dreamer and Luna pretty badly here. This segment did a pretty good job of making Raven out to be a pretty ruthless heel.
Handicap Match: Too Cold Scorpio & Taz vs The Pitbulls & Raven
This match was supposedly going to be 2 Cold Scorpio, "The New" Taz, and Dreamer vs The Pitbulls & Raven.
Hack Myers comes out to take Dreamer's place. Myers clears the Flock out of the ring. Bill Alphonso comes out. Fonzie won't allow Myers to wrestle in the match. He orders him out of the ring, and makes the match a handicapped match. This crowd hates Bill Alphonso.
Scorpio comes out to fight Raven and The Pitbulls solo. They overwhelm him until all of a sudden "The All New" Taz comes out. He has a new orange and black singlet on, and he has cut off his long stringy hair. He comes in and tosses Raven & The Pitbulls around with some of the best overhead belly to belly suplexes I have ever seen in my life. You could see Taz had a lot of legitimate power. He throws these guys around like ragdolls. The crowd loves it.
Taz and Pitbull #2 start if off together. Taz throws the bigger man with a nice Judo hiptoss. Scorpio gets tagged in. The Pitbulls take the momentum of the match by double teaming Scorpio. Raven gets tagged in. Raven and The Pitbulls take turns beating on Scorpio. Scorpio gets a reversal on Pitbull 2 to take him down in an armlock submission. Scorpio does what he does best and carries The Pitbulls through an entertaining couple of minutes. Taz gets tagged in, and is soon double teamed by The Pitbulls on the outside. The Pitbulls take a chair to Taz on the outside. Raven and The Pitbull take turns beating on Taz in the ring. Taz ducks a clothesline, and tosses Raven with his Head and Arm "Tazplex". Taz gets the hot tag to Scorpio. Scorpio comes in to clear the ring.
Scorpio goes up top for a fucking amazing moonsault. Beautiful.
Paul Heyman points out a fan in the front row holding up an "I Love Stevie Richards" sign. It's Francine.
Stevie approaches Francine. Raven goes over to Stevie, and smacks him in the face for being distracted. Beulah and Francine start a little scuffle before Raven drags both Beulah and Stevie away to the back by their hair.
The Pitbulls lay out Taz and Scorpio. The Pitbulls look around for Raven wondering where he went. Taz catches one of the Pitbulls by surprise, and tosses him off the top rope with a suplex for the win.
6.5/10
This is pretty much the only real wrestling match so far in this show. Not bad, but not great either. Taz looked really, really good. This is the beginning of the Pitbulls split from The Flock, as well as the start of the Beulah vs Francine feud with good ole Franny making her ECW debut here as Stevie's crazed fan.
Public Enemy vs Ian & Axl Rotten
Public Enemy comes out, and the Arena is just rocking. Everybody looks to be having a lot of fun, waving their arms around to their music as they come out to the ring. Axl Rotten comes out with a barbed wire baseball bat, and calls PE out on their "Mack Daddies Of Violence" nickname. Axl says that his fued with Ian is more violent than anything PE has ever done. Axl calls his brother out, and challenges PE to a match.
Ian Rotten comes out with a chair, and reunites with his "brother". All of a sudden Bill Alphonso comes out.
Fonzie tells the Rottens that they wrestled a match in January where the losing tag team was to split up for good. Fonzie says that if the brothers have any tag team contact in the match that he will shut down Todd Gordon's ECW, and that everybody could take that to the bank daddy!
Trash starts flying into the ring. Fonzie says that the match will not go down at all, and calls out Todd Gordon. Fonzie takes their weapons away from them. The crowd starts a camptown races chant about how Fonzie takes it up the ass.
Axl says that he doesn't want to screw the people out of their hard earned money, and starts brawling with Ian Rotten. The two men brawl their way out of the scene to the back. PE starts celebrating with their fans. Everybody is dancing and having a real good time until all of a sudden........
These guys come out to crash the party:
The Gangstas make their ECW debut by attacking Public Enemy. Styles acts like he doesn't know who they are. Joey thinks they are fans that jumped the railing, and talks about how they aren't even working in ECW. The Gangstas beat down PE as Joey cries out for help. Public Enemy are busted open bleeding all over the place.
Todd Gordon comes out with Philadelphia Police. The Gangstas are handcuffed and arrested.
Some stupid booking going on with the whole Ian & Axl Rotten ordeal(just a way to squeeze them into the show), but Bill Alphonso is just hilarious in this role to me for some reason. He really nails it with his performance, and gets some great heat from the crowd. The Gangsta's debut was pretty cool. PE needed a good rival, and The Gangstas were perfect for them.
ECW Championship
Barbed Wire Match: Sandman(C) vs Cactus Jack
Would you believe that there were only 4 barbed wire matches in ECW history? This is actually the second one. Lets take a look at this one to see how it stands up to the other 3.
This feud had been running since the later parts of 1994. The beef wasn't even really between Cactus Jack and The Sandman, it was between Cactus and Sandman's manager Woman. Cactus was running his mouth about Nancy "Woman" Sullivan's real life husband, and WCW booker Kevin Sullivan(Cactus had recently been released by WCW). The feud escalated in the brutal Texas Death match earlier on in 95. It heated up when Sandman & Woman brought back Terry Funk, who badly burned Cactus multiple times with a flaming branding iron. Sandman won the title from Shane Douglas, who cheated Cactus out of his title match with The Sandman at the last show. Now the rivalry goes to the next level with the Barbed Wire match. Lets check it out.
Nancy comes out looking pretty damn hot, with the ECW strap over her shoulder. She lights up a pre-match smoke for The Sandman as they take their time walking to the ring.
I'm starting to wonder now when exactly the Sandman starts bringing beer out with him. We are halfway through 95, and still no beer, only smokes.
Cactus comes out with a hand drawn t-shirt that has the faces of Stan Hanson and Bruiser Brody on it.
The crowd starts chanting "LOVE! THE! SHIRT! CACTUS!, LOVE! THE! SHIRT!, clap-clap". Sandman refuses to enter the ring as Cactus taunts him. Cactus gets a microphone, and says:
"You know, Sandman, I never thought I would be saying this, but...

Get your ass IN the ring right now!"
OH! Here we go. Woman pulls out a cold one. Sandman goes back to the outside, and drinks a beer.
Sandman finishes his beer and smoke before entering the ring. Cactus tries to push Sandman's face into the wire, but Woman hits him with the cane. Cactus is sent into the wire. Cactus' hair gets tangled up in the wire.
OH SHIT!
Sandman drops Cactus across the barbed wire with an inverted vertical suplex. The wire collapses all the way down due to the weight, Cactus falls to the outside of the ring. Sandman hits a dive to the outside. Sandman wraps Cactus' face up in the wire. Sandman cuts Cactus' arm open with a loose strand of the wire. Cactus hits Sandman with an elbow, and throws him into the wire a few times. Cactus rips Sandman's shirt off, and pulls it over his head. Cactus knocks a blinded Sandman into the wire. Cactus rakes the wire across Sandman's belly.
Both men are bleeding a little bit from their arms. Cactus throws Sandman to the outside. They brawl on the outside for a while raking each other's foreheads across the wire.
Here we go with a cheese grater. Nice. Both guys start bleeding from their foreheads. Sandman lifts Cactus up, and drops him down groin first across the wire. We get a really good "OH MY GAAAAWD!" from Joey Styles.
Styles commentary throughout this entire tape has been really good. He was really at his best here, and starting to get a lot better.
Cactus recovers and slugs it out with Sandman. A fan throws a Hulk Hogan action figure into the ring. Sandman picks it up, and looks at it for a moment with a "WTF?!" look on his face before tossing it out.
Cactus drops Sandman with a DDT on a chair for a 2 count. Cactus sets two chairs up on Sandman's head, and drops a legdrop on him. Cactus gets out of the ring, and rolls a full roll of barbed wire into the ring. Sandman throws Cactus down on the wire, and drops a legdrop across the back of his head. Cactus kicks out of a pinfall attempt. Sandman drops an elbow, but Cactus moves out of the way, causing Sandman to land on the massive roll of wire in the ring.
Cactus wraps the loose barbed wire in the ring around his entire right arm. Cactus whips Sandman across his bare back with the loose strand of barbed wire.
OUCH! It sticks into his back. Shit that has to hurt.
Blood everywhere now. Cactus throws Sandman to the outside, and drops an elbow on him with his arm still wrapped in wire. Cactus rolls Sandman in the ring, and hits him with 3 chair shots to the head.
Both men collapse, and remain motionless. Cactus recovers first, but he falls back down. The bell rings.
CACTUS WINS THE STRAP! Cactus wins on a ten count.
Holy shit, Bill Alphonso comes out.
Fonzie reverses the decision because the strap can't change hands on a 10 count. The ref argues with Fonzie until Fonzie pushes him. The ref gets up in Fonzie's face. The Sandman takes a loose piece of barbed wire, and wraps Cactus's neck with it as he's distracted with the melee. Sandman chokes Cactus unconscious with the wire, and tosses his unconscious body out of the ring. Bill Alphonso counts Cactus out, Sandman retains. The crowd goes crazy with boos and trash.
Cactus lays beaten and bloodied totally wrapped up in barbed wire on the outside of the ring.
Todd Gordon comes out, and Fonzie drops his ass with a hard clothesline!
I'm sorry for all of the lol smileys, but this shit is just hilarious to me for some reason.
Sandman escapes with his title as the crowd chants "Bullshit". Cactus climbs back up to the ring with barbed wire all over him. The crowd gives him a standing ovation as he stumbles his way to the back wrapped up in the wire.
7/10
No real psychology in that match whatsoever. I've seen much, much better barbed wire matches where they really milked the barbed wire spots, and they didn't really do a good job of that here at all. The selling really makes a barbed wire match great, and it was virtually non-existent here. With that said, I kind of liked this match to be honest. It was very brutal, and just crazy. The ending with Bill Alphonso overturning the decision was hilarious. I'm loving his angle so far the way he's made life easier for all of the heels. It was a pretty good move with his character to draw more heat to the heels of ECW at the time. The Sandman and Raven were bad ass heels to the point where they were cheered by the crowds. Fonzie's character really gave them the heat that they needed.
Overall: 6/10
Man, this is a tough show to grade really. Not much wrestling, but the storyline progression was pretty entertaining. A lot of the show was a total mess. Overall I would say this show had some great moments, but I wouldn't recommend tracking it down. Their were a lot of firsts here. Sandman's first televised beer, Taz's first match since being repackaged into a shoot wrestler, The Gangsta's debut, and Francine's debut. That's quite a bit. ECW was changing. Evolving gradually from show to show. The storylines and characters were the most interesting going on in pro wrestling at the time by a country mile. WCW and WWF couldn't compete with the depth of some of these characters, and the down to earth nature of these storylines in 1995. The Sandman vs Cactus barbed wire match was ok, and I would say that would just about sum up this whole show. Just ok. I did laugh my ass off while watching this though. A lot of very funny moments. Heyman and 911 were great.