Enter the Sandman
May 13th 1995
ECW Arena
Philadelphia, PA
Here we are back in the land of extreme, and we are going to take a look at a show from a time in ECW where the company was really starting to build momentum. We are coming off of perhaps the greatest single ECW show in the history of the company in Hostile City Showdown 95(a show that I feel is better than any of the company's pay per views). The promotion has put together quite the talent pool with names like Foley, Funk, Guerrero, Malenko, and Raven.
To be honest I'm watching a majority of these shows for the first time as I'm reviewing them here(including this one). I didn't find out about ECW back in the day until mid to late 1996, so I haven't really seen much ECW from 1995 up until recently when I started this project. From what I've seen so far I would have to say that it was perhaps their best year as far as the actual wrestling matches were concerned.
This show takes place about a month after Hostile City Showdown. The major storyline is revolving around the new champion The Sandman and his manager Woman(Nancy Benoit). Sandman's character has been on the rise in ECW by this point in 95. Sandman really started to pick up steam after a brutal series of matches with Cactus Jack, and a rub with Terry Funk in an angle earlier in the year. Sandman cheated Shane "The Franchise" Douglas out of his World Title when Woman doublecrossed him at the last show. Douglas threatened to go to the WWF, and stormed out of the front door of the ECW Arena.
Raven and Dreamer's feud started to heat up a lot as well. Raven(with his lackey Stevie Richards) recruited the Pitbulls as his enforcers, and Terry Funk has even helped him out on occasion. Beulah Mcgillicutty was introduced into the storyline as Raven's grungy slut girlfriend. She cost Dreamer a match against Raven at a previous show, but Dreamer got his revenge on her at Hostile City Showdown in one of the greatest moments in ECW history.
Sabu had been fired from the company earlier in the year, and wouldn't return until November. Taz was still in his Tasmaniac gimmick, but his character was starting to evolve into something else. Altogether the promotion came a long ways from that Crossing The Line show in February of 1994 up to this point. ECW evolved gradually over the course of that year, and they were really starting to make some noise among the sheet reading, internet savy, smart mark pro wrestling fans by this time in 1995. Lets see if this show lives up to the quality of the previous show that I reviewed(I don't think it can).
Hack Myers vs Tony Stetson.
The show opens up in the grimey, smoke filled ECW Arena. These two guys come out and get it going pretty quickly. Hack Myers is pretty much worthless, but he is over as fuck here. Whenever he throws a strike everyone in the arena screams out "SHAH!" along with him.
Tony Stetson is equally as worthless, but nowhere near as over.
Stetson starts to land some offense, and the crowd starts screaming out "Shit!" with each punch.
Stetson and Myers go back and forth with the crowd screaming out "SHAH!" and "SHIT!" with each punch. Pretty funny stuff. The match is pretty sloppy. Stetson is selling everything surprisingly well.
Myers gets the pinfall with a face first piledriver after 5:30
5/10
Not terribly unwatchable, but bland as fuck. The crowd kept it fun with the chants, but not much else to write about here.
Taz & 911 vs Tsubo Genjin & Hiroyoshi Iekuda
Taz isn't MMA Taz here, he's still the Tasmaniac. He doesn't get a lot of credit for his run in this gimmick because of the cartoony nature of it. He has long stringy hair, and is wearing a singlet with fuzz on it. He's still the Human Suplex Machine though, and he had some solid matches during his time in the gimmick(including one against Dean Malenko).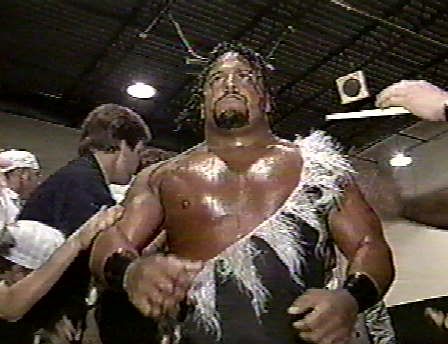 911 is among the most over characters in the history of ECW. Big 6'10 guy that really didn't do anything other than chokeslam guys into oblivion. This was back in the day when the chokeslam was a big deal.
Genjin & Iekuda are just a couple of jobbers. Both guys have their faces painted up like a couple of goofballs.
Taz and 911 are accompanied by Paul Heyman, who gets cheered pretty loudly by the crowd here.
Taz takes the center of the ring before the bell rings. The crowd starts singing "Na-Na-Na-Na, Na-Na-Na-Na, Hey-Hey-Hey Good-Bye!" to the jobbers before the bell even rings.
Taz is really over here. Heyman gets a really loud "TAZ!" chant going with the crowd. OH MY GOD! Taz nearly suplexes one of the guys through the ring. Stiff ass bump. Nasty lariat on the other guy that nearly takes his head off.
Both guys gang up on Taz, until......HOLY SHIT!
Taz lifts both guys up at the same time for a double belly to belly suplex. Damn that was awesome. Ryback aint got shit on that.
911 comes in with the double chokeslam. Jeez. They are just beating the shit out of these guys. One more chokeslam a piece on both of these guys, and it's all over.
9/10
Yeah, it's a squash match, but there are good squash matches and there are bad squash matches. This one was one of the best I've ever seen. The double belly to belly was fucking awesome by Taz.
Barbed Wire Baseball Bat Barbed Wire Chair Match
Axl Rotten vs Ian Rotten
This feud looked a lot better in the magazines than it does on these old tapes. Their last match that I reviewed from Hostile City Showdown was really actually not bad. It wasn't wrestling, but it was an entertaining brawl nonetheless.
Axl comes out to talk to Joey Styles about ECW's recent shows in Florida. Axl's arms are fucking cut up to pieces from blading. Axl talks shit about the Florida wrestling fans, calls them homo's, says "Fuck You Florida!". ECW had recently expanded to Florida for the first time in the spring of 1995, and there was quite a bit of backlash over the blood and violence in Ian & Axl's matches.
Axl says that he wants to have another match tonight with his brother Ian for the Philly fans, and out comes Ian Rotten.
They go at it with the barbed wire baseball bat, and Axl is bladed open on the forehead in the first minute of the match. Ian gets backdropped onto a steel chair wrapped in barbed wire that he brought out with him. They take it out into the crowd, and this thing just starts getting nasty, and not in a good way. Here we go with the frying pans.
How these guys were able to have this much blood run into their eyes without any vision damage we'll never know. Both guys cut themselves directly over their eyes, and blood is running everywhere. This has to be one of the bloodiest matches in ECW up to this point without a doubt.
They beat the shit out of each other on the outside of the ring, in and out of the crowd, using chairs and a baseball bat wrapped in barbed wire. Blood everywhere. Allover their arms, running down their faces. Pretty gruesome match. They take it back into the ring where Axl side suplexes Ian down onto the chair wrapped in barbed wire.
Axl pins Ian after 6:18.
6/10
I wouldn't dare call this a wrestling match, but they really found a different kind of chemistry with each other by this point in the feud. I didn't like their earlier matches at all. I'm not a real big fan of these types of bloodbath matches, but they kept on beating the shit out of each other through 1995 until they kind of found a rhythm that made them look at least a little entertaining. This wasn't as good as their last match, but for the time it ran it really wasn't that bad. It started off sloppy, but it picked up to turn into a decent little brawl. Ian and Axle don't really get enough credit for the attention they brought to ECW with this feud in 1995. They really were the ones that put the "Extreme" in ECW during these times. If that is a good or a bad thing is up for debate.
Raven & Stevie Richards vs Tommy Dreamer & Mikey Whipwreck (DQ)
Raven comes out with Stevie first. Suddenly Shane Douglas comes out for some reason. Crowd is booing the shit out of him. Shane says that he walked out on ECW at Hostile City Showdown because everyone thought tables and chairs were more important than actual wrestling. Pretty good promo saying that he was tired of being disrespected by all of the garbage fans in Philadelphia. The crowd starts up with the "Na-Na-Na-Na, Na-Na-Na-Na, Hey-Hey-Hey Good-Bye!" chants. Raven sits in the corner.
Shane says that he called Harrisburg, Pennsylvania(state capital) to get in touch with the Pennsylvania state athletic commission. Shane says that the commission sent a new referee to ECW to enforce standard wrestling rules on the promotion. Shane brings out the man that calls it down the middle daddy, Bill Alphonso comes out with a bowtied referee outfit on to make his ECW debut.
Oh man, Alphonso gets this fucking crowd fired up. Fonzie(as he will be referred to from here on out) is one hell of a performer, and this is the beginning of one of the best storylines in the history of ECW. ECW owner Todd Gordon comes out. Fonzie tells Gordon that he will shut the ECW down tonight if he has any problems. The crowd starts chanting for 911.
Fonzie assumes the position to referee the match. Dreamer and Mikey come out to "Man in the Box" by Alice In Chains.
Mikey starts it off with Stevie. Dreamer gets the tag, throws Stevie out of the ring, and tries to go after him.
Fonzie keeps Dreamer from getting out of the ring, and the crowd goes crazy with "Bullshit!" chants.
Dreamer drops Richards in the ring with a DDT. Dreamer refuses to pin Richards because he wants Raven. Dreamer tags back out to Whipreck. Dreamer drops Whipreck down onto Richards, and begs Raven to come into the ring. Raven just stands in the corner looking at him with a stoic look on his face.
Mikey continues to work Richards over. Richards counters a move by Mikey, and tags out to Raven. Raven and Richards continue to beat on Mikey. Fonzie keeps Dreamer out of the ring, and keeps the match clean.
Raven and Richards use some nice double team moves on Mikey. Richards gets a drop toe hold, and Raven lands an elbow across the back of his head. Raven tries to throw Mikey off the top rope down to the concrete outside, but Dreamer catches him for the save. Dreamer rolls Mikey back into the ring where he reverses a move on Raven. Mikey pulls the rope down sending Raven to the outside. Mikey misses a dive over the top onto Raven and Richards, but Dreamer comes in and follows him up with a dive of his own that takes out Stevie. Raven DDT's Mikey into the concrete as Dreamer does the same to Stevie at the same time. Dreamer and Raven get in the ring together.
Dreamer finally gets his hands on Raven in the ring. Dreamer lays Raven out with a couple of punches, and......
Holy Shit.
Fonzie disqualifies Dreamer for using closed fists. Brilliant. The crowd goes ape shit with boos.
Shane Douglas comes back out, and loves every minute of it. Tommy threatens to kick Fonzie's ass, but Douglas reminds him that Fonzie will shut ECW down if he does it. Cactus Jack comes out.
Cactus tells Shane to get his ass out of ECW, and to take his referee with him because nobody wants either of them there. Shane screams at Cactus telling him that he was the one that helped him out when he had nowhere to stay when they were training in wrestling school together(both of them trained together at Domenic Denucci's school). Shane threatens to have Fonzie shut ECW down. Cactus challenges Shane to a match, and the two start fighting each other. Douglas and Cactus are pulled apart.
9/10
This is more of a rating for the segment as a whole rather than the match itself. The match had some great psychology. When Dreamer and Raven finally hooked up, only for Fonzie to DQ Dreamer for violating the closed fist rule, that shit was hilarious. It also kept that fued going strong. That was the story of the fued for years to come. Raven was built up as this intelligent, dangerous heel that just wouldn't back down from a fight, yet managed to somehow escape Dreamer's revenge for a really long time by giving the traditional "Chicken Shit" heel a fresh new twist.
The storyline with Bill Alphonso trying to enforce traditional wrestling rules in ECW is really underrated. One of the best storylines of all time because it played on the way wrestling fans of the mid 90's were changing. People didn't want to cheer super clean Rocky Miavia babyfaces anymore, and they were growing sick and tired of the structure of wrestling matches. Now, here in this angle, fans were booing someone for
following
the rules. It was brilliant really. Heyman knew these fans like the back of his hand. He knew how they would react to this angle, and they ate it up. I'm looking forward to taking a closer look at this storyline in the future shows I will be reviewing.
The promos with Cactus and Shane Douglas were really good as well. This was just a really, really well booked segment that brought different stories together in a really nice way. People that think Heyman is an overrated booker, I'd present this segment as evidence otherwise.
ECW TV Championship
Eddie Guerrero(ch) vs Dean Malenko
These are always a real treat. This is the second of nine singles matches that these two men had against each other in ECW. Their previous match at Hostile City Showdown is perhaps the best match in ECW history, and among the best that Guerrero and Malenko have ever had against each other. I've seen this match before, and it isn't as good, but it is still a solid match. Lets take a closer look at it to see where it stands among the many classics that these two legends had.
Joey Styles on commentary says that he requested a special guest commentator to add his professional insight on the match. Joey puts the man over with his amatuer wrestling background, and his Judo credentials before saying his name is Peter Senerchia.
The bell rings, and Malenko and Guerrero begin circling each other. They start it off with some beautiful chain wrestling. Just really fluid transitions from submission to submission. Guerrero flips Malenko to the mat into a Fujiwara Armbar as Peter Senerchia tells us. Senerchia calls the holds as Malenko counters Guerrero into a leg lock. They make their way back up to their feet. Guerrero leaps up to the top rope, and hits Malenko with an inverted Hurricanrana.
Malenko gets the "Tiger Bomb" on Guerrero for a 2 count. Malenko continues to dominate the match, and even lands a Tombstone. Malenko controls the momentum of the match, and works Guerrero's back over. Guerrero goes for his tornado DDT out of the corner, but Malenko breaks free, and tosses him down into the canvas.
Malenko gets a powerbomb followed immediately by a Boston Crab attempt. Eddie whips Malenko to the mat with his legs out of the Boston Crab. They both catch each other in a few quick pinfall attempts before simultaneously rising up to their feet, and hitting each other with simultaneous clotheslines. Both of them go down.
They slowly recover, and Guerrero slowly works his way back into the match. Guerrero lands a Brainbuster Suplex, and a nice dive onto Malenko to the outside. They make their way back into the ring where Guerrero gets a Superplex.
Guerrero twists Malenko's arm, and springboards up the ropes to the top. Guerrero leaps off the top rope with a hurricanrana on Malenko. Eddie hits his head pretty hard on the canvas on the way down. His head is cut open, and I don't think he bladed himself. I think he was legit cut on the canvas during the hurricanrana. Guerrero's bleeding pretty badly.
Malenko goes for the Texas Cloverleaf, but gets rolled up for a two count.
Guerrero gets a hurricanrana off the top rope, and a crucifix sit down powerbomb, but Malenko kicks out of the pinfall attempt. Malenko starts to take the momentum of the match. The two men take turns catching each other in quick rollup pinfall attempts before Guerrero locks Malenko in the figure four.
The bell rings for a draw after 30 minutes expires.
After the match Joey Styles goes on listing the amateur wrestling and Judo accoplishments of his special guest commentator Peter Senerchia. Styles introduces Senerchia as Taz with Paul Heyman by his side in the commentary booth. This was how they repackaged the Tasmaniac into Taz the shoot wrestler.
8/10
This was not one of their better matches in ECW. I wouldn't put it in their top 3 out of the 9 they had. With that said, it was still easily the best match on the tape. Both guys looked really good, but they just didn't seem to have the same chemistry that they had in their previous match at Hostile City Showdown. This one doesn't stand up well to any of their WCW matches either.
The way they repackaged Taz here was pretty cool as well. It had a lot of realism to it mentioning his real name as well as all of his legitimate athletic accomplishments. He still wasn't the MMA badass Taz, but more like the third Stiener brother. A shoot wrestler. This repackaging would hit a roadblock when Taz broke his neck later on in the summer.
ECW Championship
Sandman(ch) vs Cactus Jack
This has been a very brutal, physical, long running feud for ECW in 1995. It started with Cactus poking insults at WCW booker Kevin Sullivan. Sullivan's real life wife "Woman"(the late Nancy Benoit) was managing The Sandman at the time, and was offended by it. They had a really brutal Texas Death Match earlier in the year that put The Sandman out of action with a severe concussion. Sandman and Woman brought back Terry Funk, who feuded with Cactus leading up to this show. Funk badly burned Cactus on multiple occasions with his flaming branding iron leading up to this show.
Sandman is still not drinking beers yet. Only smoking. He's got a lot of respect from the crowd. The thing about this that I just kind of realized is that The Sandman wasn't really the real ECW World Champion during this reign. Nancy "Woman" Sullivan was the real champion. It was her idea to trick Shane Douglas out of the belt, and she was always the one holding and flaunting the belt. The belt was what her character was all about. She was a gold digger. She was the real champion if you think about it. She only used The Sandman to get what she wanted. Interesting.
Cactus comes out, and Sandman attacks him immediately. They take it out to the bleachers for a wild brawl. They make their way back ringside. Cactus slams Sandman's head into a steel chair held by a fan. All of the fans are trying to hand weapons to the wrestlers. One of the fans is holding a plunger. Cactus falls down near the gaurdrail and all of a sudden a cookie sheet, and a bowling pin are thrown near him by ringside fans.
They brawl their way back into the ring. Sandman takes Cactus back out of the ring, and clotheslines him into the crowd. Sandman leaps off of the ring apron over the guardrail to hit Cactus, and almost kills himself.
Cactus is dragged back into the ring. Sandman brings a table into the ring, and props it up in the corner. Cactus is whipped into the table. Cactus hits Sandman in the back of the head, and sets the table up propped on the ropes.
Sandman leans up against the table, and Cactus lifts it up over the ropes. Sandman slides off of the table out to the concrete outside the ring upside down. Holy shit.
Cactus finds barbed wire, and lands an elbow drop on Sandman on the outside with it wrapped around his arm. Sandman is cut open. Cactus continues to attack Sandman with the barbed wire wrapped around his arm. Cactus lands the double underhook DDT. Cactus attempts the pin, but Shane Douglas comes out. Douglas props The Sandman's legs up on the ropes.
Cactus is distracted by Shane Douglas, and The Sandman cracks him in the back of the head with the Singapore cane. Sandman rolls Cactus up for the pinfall at 11:39.
6.3/10
Nothing special at all about this match. It was an ok brawl. The spot with Cactus scooping Sandman out of the ring on the table was pretty sick, but otherwise there wasn't much going on.
ECW TV Championship
Eddie Guerrero(ch) vs Marty Jannetty
This match is not on the tape of this event that I have, but it did take place at this show. They went for about 6 minutes to separate the two title matches. Not sure why it didn't make the home video tape of the show. I've seen a short clip of the match in the commercial for the tape that used to air on the episodes of Hardcore TV. They should have cut out the opening matches to make room for this one.
ECW Championship: Sandman(ch) vs Shane Douglas
Something to keep in mind when looking at the odd structure of an ECW show like this is that these shows were primarily filmed to be cut up for multiple weeks worth of their weekly Hardcore TV episodes. I think that explains why we are getting two title matches in one show here. They probably cut it to where one was aired one week, with the other the next.
This crowd is really tearing into Shane Douglas. Shane works The Sandman over, opening his cut back open by slamming his head into the turnbuckles. Douglas lifts Sandman up into a vertical suplex, and drops him down across the ropes. Sandman bounces off the ropes awkwardly, hitting his head pretty hard.
Douglas sends The Sandman out to the concrete, and lands a dive over the top rope. Shane just keeps control of the match for a while with clean technical moves. He looks pretty good here. Sandman isn't selling worth a fuck.
Sandman pulls a rope down sending Douglas to the outside. Douglas is whipped into the steel guardrail. Sandman brings Douglas into his world on the outside, and begins to outbrawl him around the ring.
Sandman DDT's Douglas down onto a stack of folded up tables before lifting one up, and suplexing it down across him.
Sandman takes Douglas back into the ring, and lands a surprisingly good looking delayed vertical suplex. Sandman lands a catapult somersault guillatine from the apron back into the ring.
Sandman gets Douglas with his own Belly to Belly suplex. Sandman goes for the pinfall, but Douglas gets his legs up on the ropes. Cactus Jack comes out to knock Douglas' leg off of the ropes.
Bill Alfonso comes out, and says that the pinfall doesn't count because Shane had his foot on the ropes. Fonzie says that the match must go on. Sandman threatens to take Alphonso out with his cane. Fonzie says that if he does it, he will shut down ECW tonight.
Sandman takes a shot at Fonzie with the cane, but Cactus Jack jumps in his way to take the shot. Cactus falls down. Shane Douglas sneaks up behind Sandman, and rolls him up. Fonzie counts the pinfall.
The ECW referee Jim Maulinaux gets up in Fonzie's face, and says that the match was already over. Cactus tries to go after Shane Douglas, but Dean Malenko comes out. Malenko attacks Cactus Jack.
Tommy Dreamer comes out to save Cactus Jack.
Douglas and Malenko retreat. Raven comes running out all of a sudden. Raven and Stevie Richards attack Tommy Dreamer. Dreamer is layed out with a DDT from Raven. Cactus tends to Dreamer's unconscious body as Raven and Richards make their exit.
6.5/10
What a crazy segment with so much going on. Perhaps even a bit too much going on. The match between Shane Douglas and Sandman wasn't bad, but it wasn't good either. Shane Douglas looked pretty good throughout the match, but overall there just wasn't much to write about. I've reviewed several of these two guys matches together so far, and they just never could get any kind of chemistry going in the ring.
Double Dog Collar Match for the ECW Tag Championship
Public Enemy (ch) vs The Pitbulls
These two teams put on a pretty good tag match at Hostile City Showdown. The Pit Bulls are accompanied by Stevie Richards. Public Enemy were really over with the ECW fans at this time. Everybody in the crowd is waving their arms around as they make their entrance.
Todd Gordon comes in to give the rules for the dog collar match:
"This is still ECW. You know the rules, there are no rules!"

Both teams drag each other around, and beat each other up with the chains. Johnny Grunge and Pit Bull #1 take it to the outside. This thing just gets real sloppy. Grunge and Pitbull #1 beat each other with a frying pan. Rocco Rock tries to put Pitbull #2 through a table, but the table doesn't break.
Johnny Grunge brings in a set of car battery jumper cables. Grunge clamps the cables on Pitbull #2's groin, and rips them off. Pit Bull 2 is set up on a table.
Rocco Rock goes up, and does a beautiful moonsault off the top rope to put Pitbull #2 through the table.
Rocco Rock and Pitbull #2 take the fight over to the soundstage of the ECW arena. Rocco Rock climbs up to the Eagles Nest balcony. Grunge does a somersault off the balcony onto Pitbull #2.
Rocco Rock sets up another table on the soundstage. Rock sets Pitbull #2 up on the table, and climbs back up to the balcony(10'). Before Rock can leap, Pitbull gets off of the table, and climbs up to the balcony. Pitbull 2 superplexes Johnny Grunge off of the balcony through the table.
They make their way back ringside where this thing just gets out of hand sloppy. The Pit Bulls bring in another table. The Pit Bulls superbomb Rocco Rock off the top rope through the table. Grunge kicks out at 2.
Stevie Richards holds Johnny Grunge up from the apron, and the Pit Bulls accidentally take him out with their chain. Richards falls through a table on the outside.
Rocco Rock pins Pitbull #2 while Pitbull #1 simultaneously pins Johnny Grunge. The bell rings, and the Pit Bulls celebrate with the titles momentarily. The ref strips the belts out of their hands, and awards them to Public Enemy.
The Public Enemy are awarded 5 minutes alone with Stevie Richards after the match. They work him over briefly before Raven comes running out. Public Enemy fight Raven until The Pit Bulls come running back out. Stevie, Rave, and The Pit Bulls beat up Public Enemy until Tommy Dreamer comes out.
Tommy Dreamer drills Stevie Richards in the back with a chair, and fights with Raven. Dreamer is outnumbered, and beaten by Raven and Stevie with a steel chair. Beulah watches from the apron while Dreamer is beaten down.
All of a sudden Luna Vachon comes running out.
Luna takes out Stevie Richards as Dreamer drops Raven. Dreamer pulls Beulah into the ring, and lifts her up into the position for a piledriver like he did at the last show. Dreamer spins around slowly to give the crowd a peak at Beulah's Mcgillicutty before spiking her into the ground.
Dreamer poses with Luna as the fans chant E! C! DUB! to close the show.
6.9/10
The double dog collar match was really not good at all. It had some cool looking spots. The superplex off the Eagles Nest for example was an awesome looking moment of the match. I'll be generous with the rating because I liked the way the story progressed. Luna was a good performer, and she was a natural fit in ECW. You just never knew who was going to come out next in ECW. That was one of the reasons why I loved it so much. It was so unpredictable that it was crazy.
Overall: 7/10
This show wasn't as good as Hostile City Showdown(few ECW shows are), but it was really not bad at all. It had some great moments. Taz & 911 squash match is one of the greatest squash matches of all time. The way they repackaged Taz here was pretty cool too. Taz was in the beginning of something really awesome here at this show. His character would gradually evolve into one of my all time favorite things that ever happened to pro wrestling. Bill Alphonso's introduction, and that angle with Shane Douglas is another really good part of this event worth mentioning. On top of all that you also had a solid Malenko vs Guerrero match, and a really good match/segment with Dreamer/Whipreck vs Raven/Richards.
The Sandman's matches with Cactus and Shane, and the main event were not very good. The storylines and depth in the characters made it all interesting, but the actual matches were not very good at all.
Overall this event had a lot of things going for it. It was the beginning of a lot of cool stuff, and it did have a few solid matches to enjoy. Nothing real great, but still a pretty good show.